Contact Us About West Trucking Inc
For the fastest assistance, regarding information for West Trucking Inc provide us with some information and we will reach out.
Did West Trucking Inc pay you for your services? Did you deliver freight for West Trucking Inc MC# 863356 and not get paid?
West Trucking Inc USDOT 2492590 is located out of 2838 Risdale Ave Lansing, MI 48911 and lists 517-712-7031 and 517-580-7097 and 517-580-4817 as phone numbers. For more information about West Trucking Inc MC: 863356 you can view more information below.
If you're trying to get paid on West Trucking Inc MC863356 out of Lansing, MI debt we can help!
Call Jeremy with FBA today, at 1.662.268.9558
UNPAID DEBTS HAVE BEEN ASSIGNED TO OUR OFFICE FOR NONPAYMENT!
AS of 3-27-18 as per the FMCSA West Trucking Inc AUTHORITY WAS REVOKED ON 2-26-18 REASON INVOLUNTARY REVOCATION.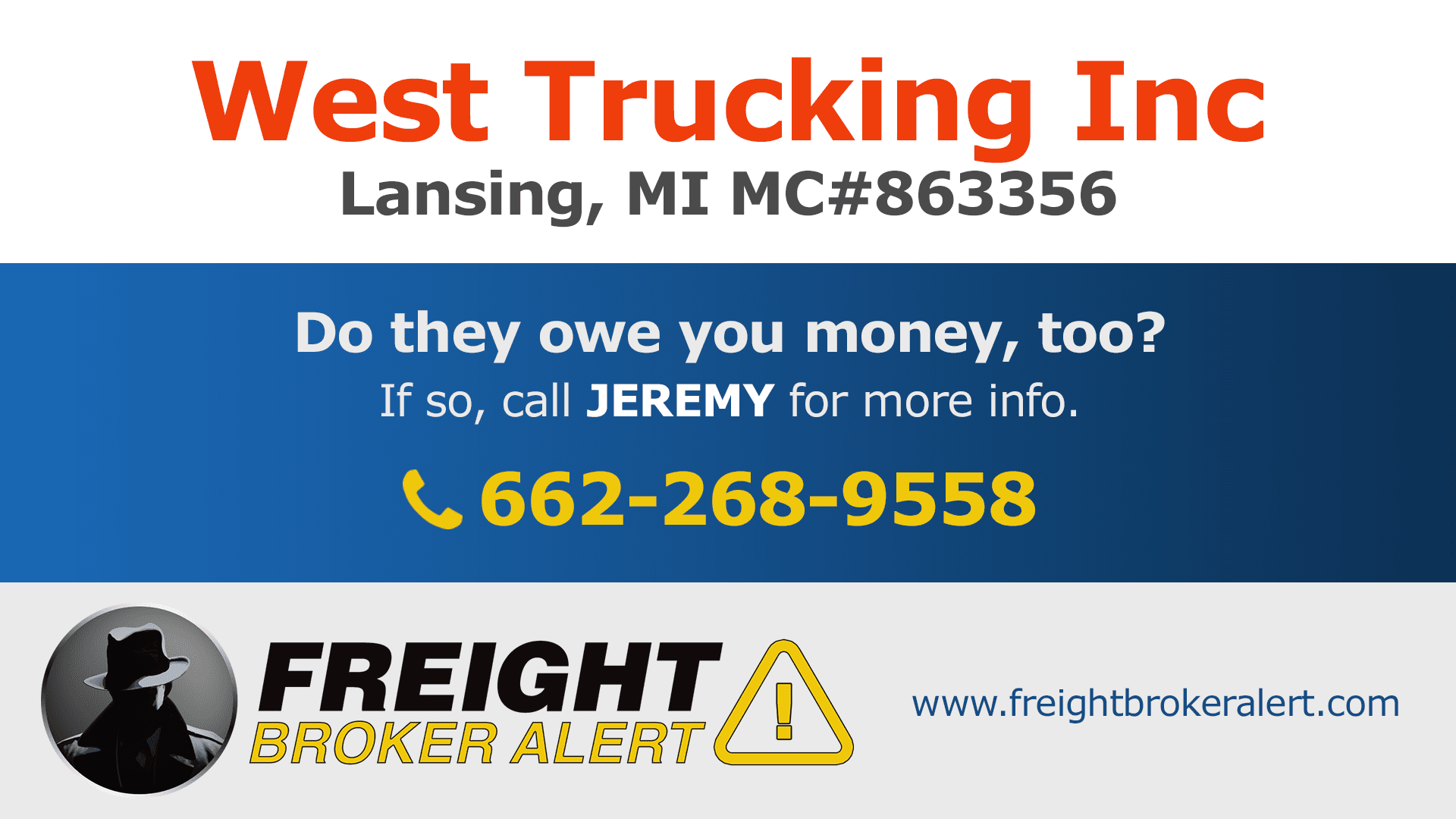 West Trucking Inc.
Lansing, Michigan | USDOT 2492590
Overview:
West Trucking Inc. is an active carrier based in Lansing, Michigan.
Its fleet predominantly consists of trucks and tractors.
Its rather diminutive fleet size (5 vehicles) suggests a lack of scale.
It has no safety rating on file.
Address: 2838 RISDALE AVE LANSING, MI 48911
DOT Number: 2492590
Docket Number: MC863356
BOC-3: YES
Power Units: 3
Drivers: 2
Authority Status:
Common: ACTIVE
Contract: ACTIVE
Broker: NONE
Operating Status: NOT AUTHORIZED
Out of Service Date: None
Safety Rating: None
Rating Date: None
Review Type: Compliance Review
Review Date: 09/22/2017
Roadside Inspections:
Total Inspections: 12
Driver Inspections: 12
Driver OOS Inspections: 0
Driver OOS Percentage: 0%
Vehicle Inspections: 10
Vehicle OOS Inspections: 10
Vehicle OOS Percentage: 50%
Mileage: 255000
MCS-150 Filed: 03/12/2015
Carrier Operation:
Interstate: YES
Intrastate Only (HM): NO
Intrastate Only (Non-HM): NO