Contact Us About Knox Logistics Inc
For the fastest assistance, regarding information for Knox Logistics Inc provide us with some information and we will reach out.
Did Knox Logistics Inc MC# 1502481 pay you for your services? Did you deliver freight for USDOT 3999065 and not get paid?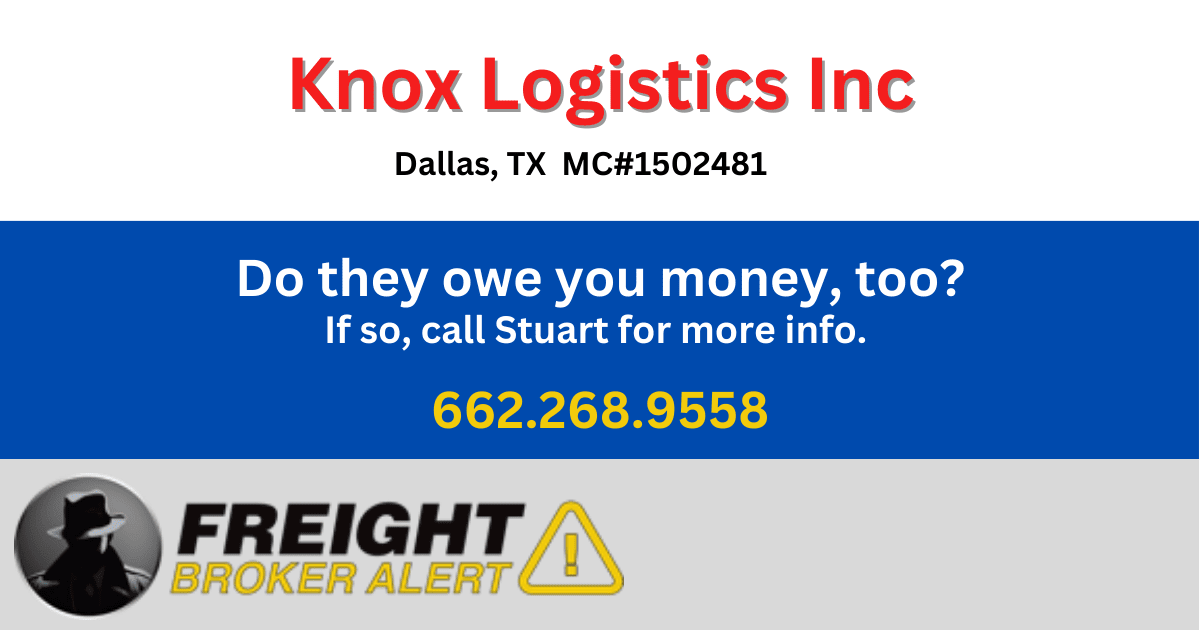 Knox Logistics Inc USDOT 3999065 is located out of 2310 N Henderson Ave Ste A Dallas, TX 75206, and lists 330-778-5411 as a phone number. For more information, you can view more below.
If you're trying to recover debts from Knox Logistics Inc MC#1502481, we can help!
We have recently received multiple placements against this company listed from multiple clients. If the broker shown is currently on your aging report, please feel free to reach out. If you feel like there is something fishy or too good to be true, you are probably correct, so reach out and let's take a look together.
Finally, it is essential to note that we work on a contingent basis, which means we only receive compensation if we successfully recover something for you.
Call Stuart with FBA today, at 1.662.268.9558
View our Archives HERE to see more double broker scams.
Motor Carrier Details:
US DOT: 3999065
Docket Number: MC01502481
Physical Address: 2310 N Henderson Ave Ste A Dallas, TX 75206 Mailing Address: Same as physical
Phone: 330-778-5411
MC/MX/FF Number(s): MC#1502481
Entity Type: BROKER
Operating Status: UNAUTHORIZED FOR BROKER
Out of Service Date: 3/18/2023
Power Units: 0
Drivers: 0