Contact Us About EP Express LLC
For the fastest assistance, regarding information for EP Express LLC provide us with some information and we will reach out.
DID EP EXPRESS LLC MC# 1206809 PAY YOU FOR YOUR SERVICES? DID YOU DELIVER FREIGHT FOR USDOT 3576893 AND NOT GET PAID?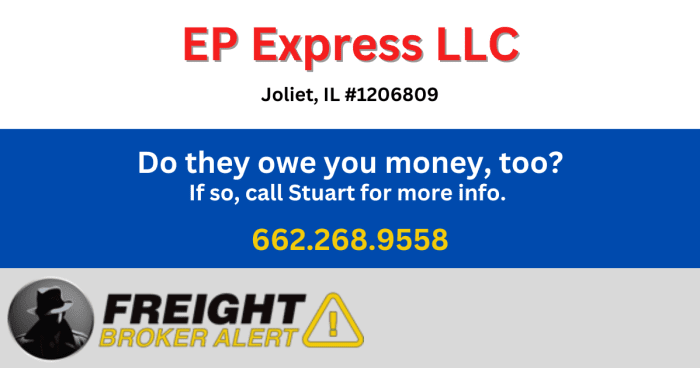 EP Express LLC USDOT 3576893 is at 506 Mills Rd Joliet, IL 60433, and lists 424-999-2290 as a phone number. Find Freight Broker Alert's most recent updates on our homepage and subscribe to our weekly newsletter.
If you're trying to recover debts from EP Express LLC MC# 1206809, we can help!
We have recently received multiple placements against this company listed from multiple clients. If the broker shown is currently on your aging report, please feel free to reach out. If you feel like there is something fishy or too good to be true, you are probably correct, so reach out and let's look together.
Finally, it is essential to note that we work on a contingent basis, which means we only receive compensation if we successfully recover something for you.
Call Stuart with FBA today, at 1.662.268.9558 or contact us.
View our Archives to see more double broker scams and check out our articles for updates on transportation news.
Motor Carrier Details: EP Express LLC
Legal Name: EP Express LLC
US DOT: 3576893
Docket Number: MC01206809
MC/MX/FF Number(s): MC# 1206809
Physical Address: 506 Mills Rd Joliet, IL 60433
Mailing Address: 506 Mills Rd Joliet, IL 60433
Phone Number: 424-999-2290
Entity Type: Broker
Operating Status: NOT AUTHORIZED BROKER
Out-of-date service: 4/26/23
Power Units: 0
Drivers: 0
MCS-150 form date: 4/26/21
Inspections:
US inspections prior of 4/28/23
Total inspections: N/A
Total IEP Inspections: N/A
Inspections type vehicle driver hazmat IEP: N/A
Inspection: N/A
Out of service: 7/22/23
Crashes:
Crashes reported to FMCSA by states for 24 months prior to 4/28/23: 0
Type Fatal Injury Tow Total